Stand firm against loose stools
Available in either a tasty paste or tablet, Pro-Pectalin™ helps both dogs and cats achieve a balanced microbial flora while promoting proper intestinal health. Let Pro-Pectalin™ soothe your pet's upset stomach caused by...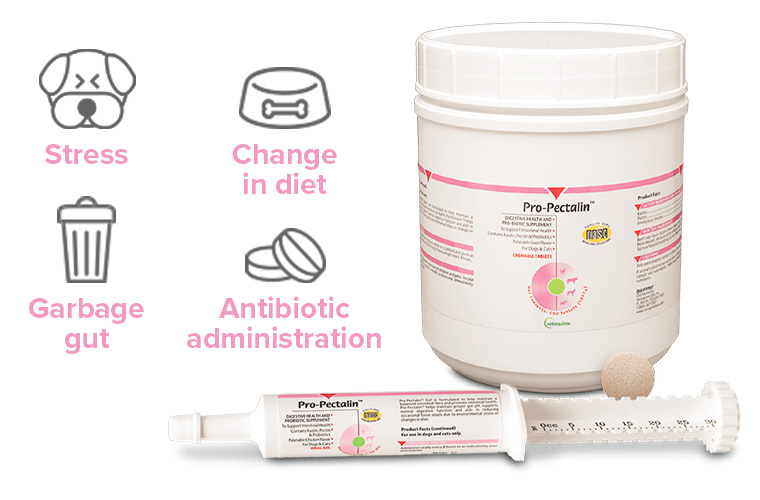 100% SATISFACTION GUARANTEED OR YOUR MONEY BACK
Contact your veterinarian to buy today or purchase from this authorized retailer:
Ingredients

KAOLIN: Soothes intestines and absorbs bacterial toxins

PECTIN: Absorbs water and helps firm stool

ENTEROCOCCUS FAECIUM: Probiotic that is part of the normal intestinal flora, aids in nutrient absorption

Options

Pro-Pectalin Tablets:

Pro-Pectalin Gel:

Chicken flavor
15cc & 30cc sizes

Directions

Pro-Pectalin Tablets:

Administer orally. Tablets may be given whole or crumbled and given at meal time. Give one tablet per 20 lbs (9 kg) of body weight every 8 hours.

Pro-Pectalin Gel:

Administer orally every 8 hours or as indicated by your veterinarian.

For Cats: 1cc
For Dogs 10 lbs and under: 1cc
For Dogs 11 - 30 lbs: 3cc
For Dogs 31 - 60 lbs: 5cc
For Dogs 61 lbs and over: 8cc
*Consult your veterinarian before giving your pet Pro-Pectalin. Follow the recommended administration on the package, unless otherwise instructed by your veterinarian.